What do they do? Not all Architects are the same. Understand the roles of different Architects in tech.
The Solution, System Integrator or Platform? We are talking about architects. These roles are fast-changing thus very often – interchangeable.
In this article, we will talk about these roles and what duties they perform, where they excel and who to choose to perform a certain task.
Solution Architect
Solution Architects, present the full landscape view/scope of a solution with enough detail to satisfy the range of stakeholders involved. Solution architects are focused on managing ongoing projects and activities, analyzing the consistency of the solution, requirements implementation, and other operations within the project. Often, solution architects get assigned to technology risks while Platform architects are responsible for implementation. The risks assigned to solution architects may include unclear requirements, untested innovative stacks, etc. The roles taken by solution architecture specialists are much similar to those taken by project managers.
Solution Architects captures the technical solution within the architecture repository for effective knowledge management purposes. The technical solution is also captured using appropriate tools to provide interactive and communication activities with stakeholders. Analysing, challenging and translating business/functional/non-functional requirements into a coherent solution or a range of solution options is very important.
Their core functions include:
Conceptual Architecture
Concept Options Scope
Conceptual Solution Options
T-Shirt Sizing
Business Proposals
Key Design Decisions (Tactical, Strategic, Hybrid) and architecture repository
Measuring regret spent
Design Forums
Design Workshops
The key outputs produced by Solution Architect are:
Proof of Concepts
Solution landscape View
Conceptual Architecture
Logical Architecture
Physical Architecture
Security Architecture
Interface Designs
Interface Catalogue
Non-functional and performance requirements
Monitoring and Recovery
Pilot or Trial Design
System Integration Architect
System Integration Architect defines, as the fundamental and unifying system structure defined in terms of system elements, interfaces, processes, constraints, and behaviours.
A system architect, not only knows about the individual components but also understands the inter-relationships among the components and creates sophisticated IT systems.
Their core functions include:
Definition of Systems Requirements
Define Interface Design
Define policies according to which these subsystems interact
Defines Infrastructure Capacity Requirements
Defines Platform Capacity Requirements
Migration Design
Cut-off planning
Handover planning
Team liaising
Platform Architect
Platform Architects, also known as Technical Architects use hands-on approaches in architecture development to provide technical leadership within the project lifecycle. Usually, they are named in accordance with the technology they are qualified in, for example, a Java Architect, .NET Architect, Python Architect, etc.
Their core functions include:
Infrastructure Capacity Requirements
Infrastructure Capacity Planning
Infrastructure Design
Platform Capacity Requirements
Platform Capacity Planning
Platform Resilience requirements
Platform Design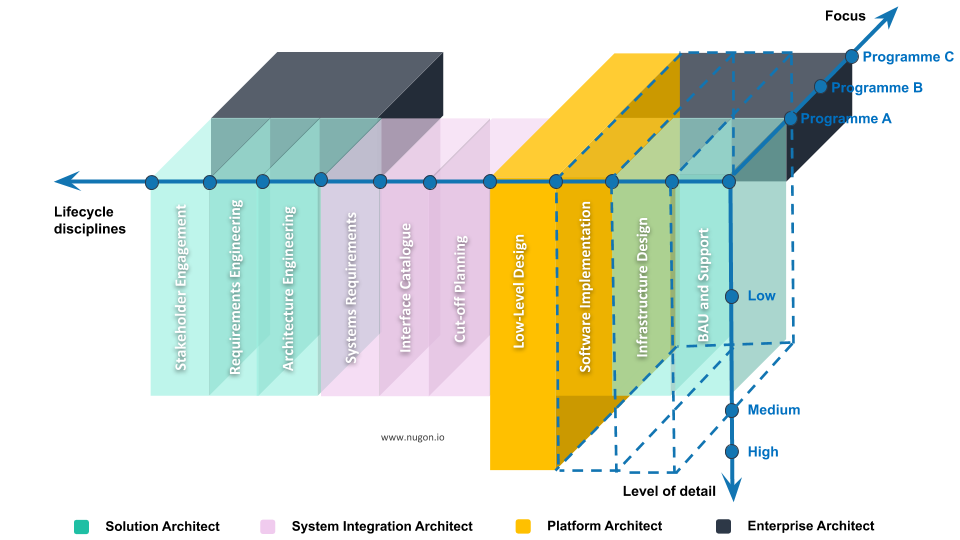 To understand the differences between these three architecture roles, a diagram illustrating the framework contrasting solution architect vs platform architect vs system integration architect. In the diagram, the roles of architects are explained: life cycle disciplines, levels of detail, and focus. The diagram uses three-dimensional plain and the first dimension includes a set of activities performed on a particular stage of SDLC (stakeholders involvement, software requirements, and specification engineering, architecture design, implementation, maintenance, etc.). The second dimension combines different information needed to perform the responsibilities of the role. The third dimension is all about different workstreams within the company.
According to this diagram, platform architects are aimed at realizing particular technical implementation processes. However, they can be also involved in the entire solution life cycle but rarely. They are responsible for the project delivery and leadership for developers in terms of technology. Platform architects are usually occupied with one technology and are named accordingly.
Solution architects ensure product consistency. They are responsible for the activities related to the requirements capture, concept design, implementation, maintenance. They work across wide range technologies and work with one of more platform architects to envisage, design and deliver their solutions. Their goal is to keep their solutions aligned with the enterprise guidelines (strategic direction of the company) and find & report gaps in the organizational capabilities. It will be right to say that Solution architects work longest in the project life cycle and take more responsibilities on delivering the end to end solutions with a blend of strategic and tactical solutions for the business problems.
System Integration Architects deal with architectural implementation across various different technical teams. The more involved in the delivery of the physical design, systems requirements, interface design, interface repository, delivery of non-functional design, migration and cut-off planning.
To conclude, the terms used in the article can be quite confusing as well as their meanings. That is the reason why so many people, especially those who are new to the IT industry, confuse those and use wrong notions to express what they mean.